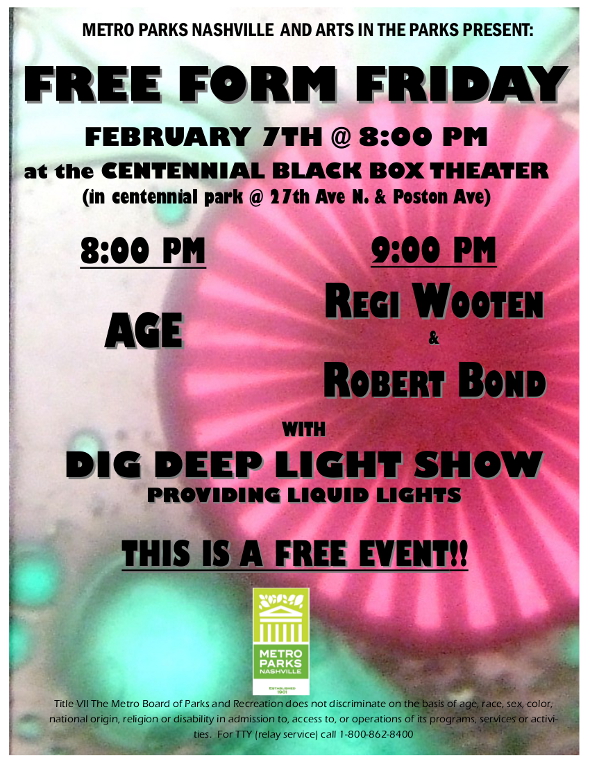 Metro Parks' Free Form Friday series returns to Centennial Park on Friday, February 7th with three experimental projects on the rise.
At 8 p.m. is Age, the infinite-sample-loop of Josh Gumiela and Luke Rainey. The duo is one of my favorite things in Nashville. Check them out on their Theatre Intangible artist showcase.
At 9 p.m. is the improvisational duo Regi Wooten and Robert Bond. Guitarist Regi Wooten is the elder sibling in the world famous Wooten Brothers band. Percussionist and electronic artist Robert Bond has worked with artists like The Yardbirds, Bo Diddly, Charlie McCoy and the London Symphony Orchestra. Together, they're mesmerizing. Regi and Robert also appeared on a Theatre Intangible artist showcase.
Armed with three overhead projectors, liquids of many colors, plates, pans, and matted transparencies, Dig Deep Light Show will create live improv visuals all night. And my, aren't you lucky, Dig Deep appeared on this Theatre Intangible episode.
Free Form Friday is a bimonthly improvised-arts series curated by Mike Teaney, music and theater program coordinator for Metro Parks. Previous editions featured Concurrence, Mark Volker, Carolyn Treybig, and Hyrkamonsta. This will be Dig Deep's third appearance.
The concert is occurring at Centennial Park's new black box theater, located inside the Arts Activity Center.
If you use Facebook, you can find more info on the Facebook event page.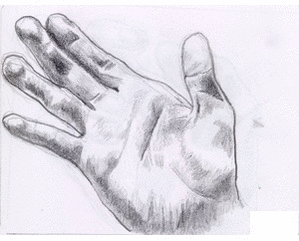 Freeform Friday feat.
Dig Deep Light Show
Friday, February 7th, 8 p.m., Free show
@ Centennial Black Box Theater
Centennial Park inside Centennial Arts Activity Center
On 27th Ave, the next building after Springwater Supper Club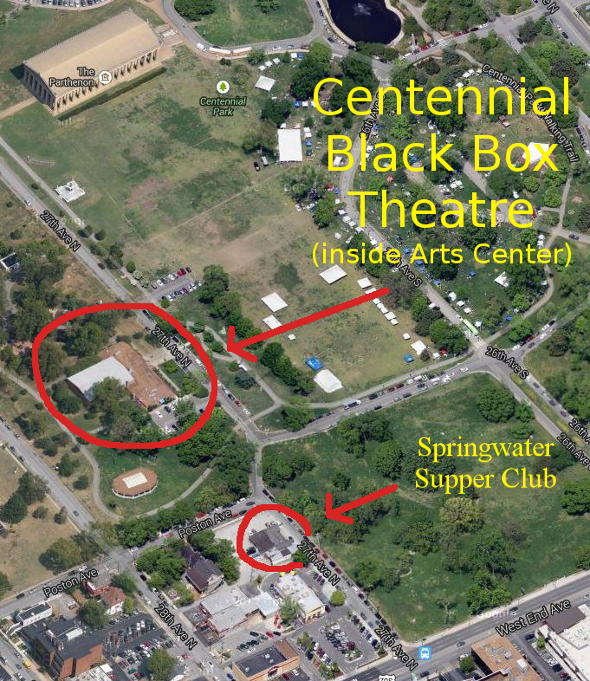 age • regi wooten + robert bond • 2-7-14 • 8pm • centennial black box theater • nashville from gumi on Vimeo.