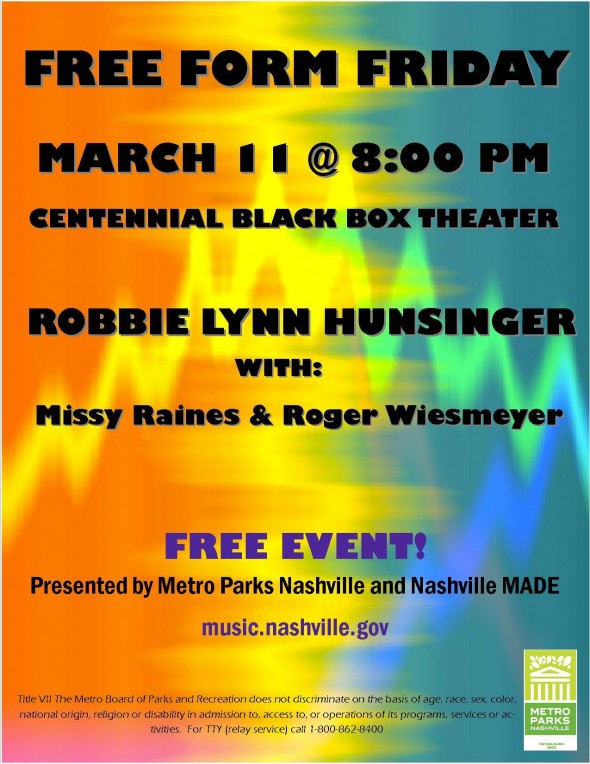 Nashville composer, coder, oboist, new media artist, and Circuit Benders' Ball alum Robbie Lynn Hunsinger will perform Friday, March 11 at 8 p.m. at the Centennial Black Box Theatre. The event is a part of Metro Parks' experimental arts series Free Form Friday.
Hunsinger will be joined by award-winning double-bassist Missy Raines and Nashville Symphony English horn player Roger Wiesmeyer. Hunsinger will perform on oboe, saxophone, Irish whistles, and various electronic gear. Expect a guest appearance by the Arduino drummer (although this time it may switch from snare to cymbal).
Rumor has it that Hunsinger may be bringing a scaled-down version of her phenomenal Frist Museum interactive installation Blue-Yellow-Red. (Read about Blue-Yellow-Red in Make Magazine.)
Like all Free Form Fridays, this event is FREE. To learn more about Free Form Friday, check out my Nashville Arts interview with Mike Teaney.
Ebenezer Creek for Two English Horns, Bass & Interactive Video – Excerpt from Robbie Lynn Hunsinger on Vimeo.
"Blue-Yellow-Red" interview with Robbie Lynn Hunsinger from Robbie Lynn Hunsinger on Vimeo.
Duet for Arduino & Soprano Sax from Robbie Lynn Hunsinger on Vimeo.
Free Form Friday presents Robbie Lynn Hunsinger, Missy Raines, and Roger Wiesmeyer
Friday, March 11, 8 p.m., free show, all ages
@ Centennial Black Box Theater, 211 27th. Avenue North, Nashville, TN 37213